Design and Affordability
The number one concern for the local community is affordability. Gehl know from experience that for a project to be sustainable it is vital that a community can accommodate a broad demographic spectrum in terms of age, education, economic and physical activity, skills and wealth. In the design process this means designing diverse home types for different household types and sizes, different income groups and different lifestyles.
Housing affordability is not just a matter of finance. Houses and flats are planned with efficiency to save on infrastructure and living expenses so that more people have a fair opportunity to buy, rent or build a home.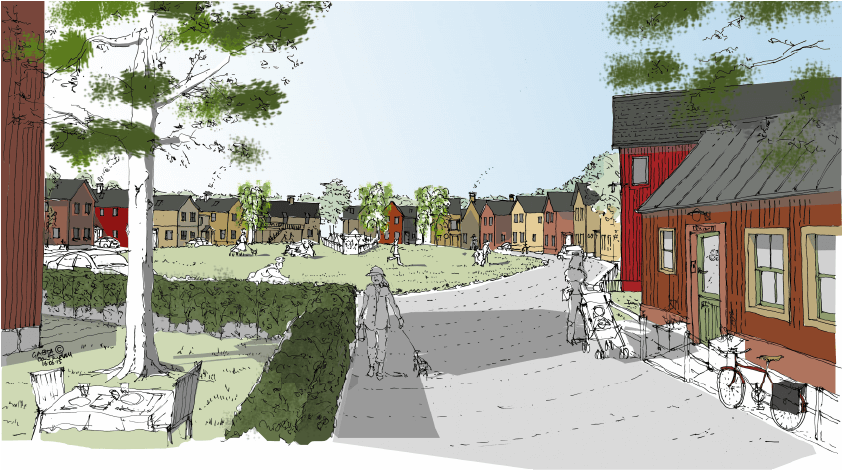 What do local households want from a home, and what is affordable?
The Highland Small Communities Housing Trust's (HSCHT) Survey Report for An Camas Mòr showed that the vast majority of respondents need a two or three bedroom home and there is a particular shortage in Aviemore. The HSCHT advise us to build flats, terraces and housing for older people to achieve the rental costs and selling prices that local households can afford alongside bigger open market sale homes to subsidise the infrastructure for affordable housing options, making these possible on the site.
Most of the 401 respondents who completed the survey would not be able to afford the many detached houses with big gardens that have recently been built in North Aviemore – so at An Camas Mòr there will a far greater proportion of smaller homes with a minority of bigger houses rather than the bare minimum allocated as affordable housing. Here are some of the survey responses:
'An Camas Mòr is vital for those living here who are in inadequate homes or are not able to reach their potential due to a lack of housing stock. I know many retired or empty nesters who want a good quality small home but this is in short supply as developments are flats or houses which are extremely large'.
'Also smaller properties for single people and couples, as a lot of the new ones are large properties many of which end up being holiday homes. Plenty of locals desperate for homes and have been on the housing lists for years and have no hope of getting a property …'.
'Can't afford a 4 bedroom with garage. Then outbid if something cheap arises. Don't want to move from Aviemore as this is my home and ancestral home'.
'There is a drastic shortage of affordable 3 bedroom properties for rent in the area'.
Will the houses be terraced or detached?
There will be a mixture of flats, terraced, semi-detached and detached homes: near the centre of the village, along and close to the High-Street the houses will be joined up, further out they will be detached or semi-detached but still close together. At the village edge, they will have a bigger garden but the house will still be placed at the boundary of the plot, close to the street.
Why are the houses planned close together?
To save on infrastructure costs, houses will be placed on long, thin plots with the houses next to the street, and closer to each other, which means An Camas Mòr will have shorter streets, pipes and wires, than a conventional layout. Some houses will be gable-end to the street which cuts the length of the street, pipes and wires servicing the street, road area, and walking distances.
This enables nearly everyone's home to be within 400m or 5 minutes walk or 2 minutes cycle ride of the village centre and the forest and therefore, for people to be less dependant on a car. Most households will live within walking or cycling distance of work, primary school and Aviemore train station, enabling them to save on travel costs.
The shorter streets concentrate as much development as is reasonable, on a small an area as is possible, to protect naturally sensitive areas from unnecessary development in the future, and saves on the cost of land with planning permission in a National Park.
Why are the houses placed close to the street?
The key to reducing build and infrastructure costs is placing houses on the corner of the site, close to the street and right up to the plot boundary at the side. By drastically reducing the amount of tarmac, this saves on both land and material, making the community more sustainable economically and environmentally. Using less tarmac also improves the drainage- it makes the microclimate less hot in the summer and less icy in the winter.
The houses are placed at the front of the plot to increase the useful space at the back – to make room for an outbuilding, workspace or garden bothy that can be seasonally sub-let to provide another source of income- or space to adapt or extend a home in the future. A house with a smaller plot is also a less expensive house. This all helps to create an economically resilient community.
How is the layout designed to keep people's privacy?
Some of the houses will be staggered rather than facing each other, to prevent overlooking. The careful placement of windows, and keeping the existing trees will screen houses and keep people's privacy.
How are the houses designed to reduce their energy use?
Buildings are designed to be energy efficient by catching the sun's light and heat. Traditional pitched roofs absorb the sun's energy: larger roof surfaces towards the street, let more light down to street level, a smaller roof surface to the back leaves room for larger windows to let natural light in.
Joined-up buildings make efficient use of heat energy by decreasing the area of exposed external wall – the pattern of joined-up buildings is also a distinctly Scottish characteristic.
This traditional approach to energy efficiency may be used alongside technologies such as solar panels, and heat source pumps to reduce energy bills or even provide households with another source of income.
How are the homes designed to cut the energy use and cost in materials?
Using locally sourced timber is a traditional and sustainable approach to building. Timber, is inexpensive, has good insulation properties, is renewable and acts as a carbon store during the lifetime of the building. Zinc roofs are also less expensive than slate.
How will An Camas Mòr preserve the rural character of Rothiemurchus?
An Camas Mòr is designed to preserve the characteristics of Strathspey forest villages like Grantown and Nethy Bridge, planned for efficient use of natural resources and climate adaption, whilst interpreting these in a modern way. Joined-up houses, close to services and huddled together to protect against the weather are characteristic of rural communities- rather than the detached houses with big gardens, separated by a car journey from local services, that are typical of suburban sprawl.
The plan for An Camas Mòr is actually traditional for New Town planning in the rural North East, for example, Grantown and Tomintoul. Each house had 'lotted lands' to grow crops or keep animals on the village edge and a back yard with space for outbuildings to house livestock and tools. To maximise the useful space in the back yard, houses were placed up to the street front on a
long plot and connected to their lotted lands via 'back lanes' along which you could walk animals. This also cut the walking distance between the land allotted to their house and the market square to trade their produce – the shorter the walking distance, the more valuable the house and land allotted to it.